The company Geekvape punches devices, both on the conveyor. Novelties pop up in the world news with an enviable regularity. This time, the next one- spiral tank Geekvape Zeus RTA came out . Already "stuffed his hand" on such devices, the manufacturer, inspired by the popularity of Ammit, rolls out the device is not very different from the older brother's constructive. The main slogan of "Zeus" is tightness!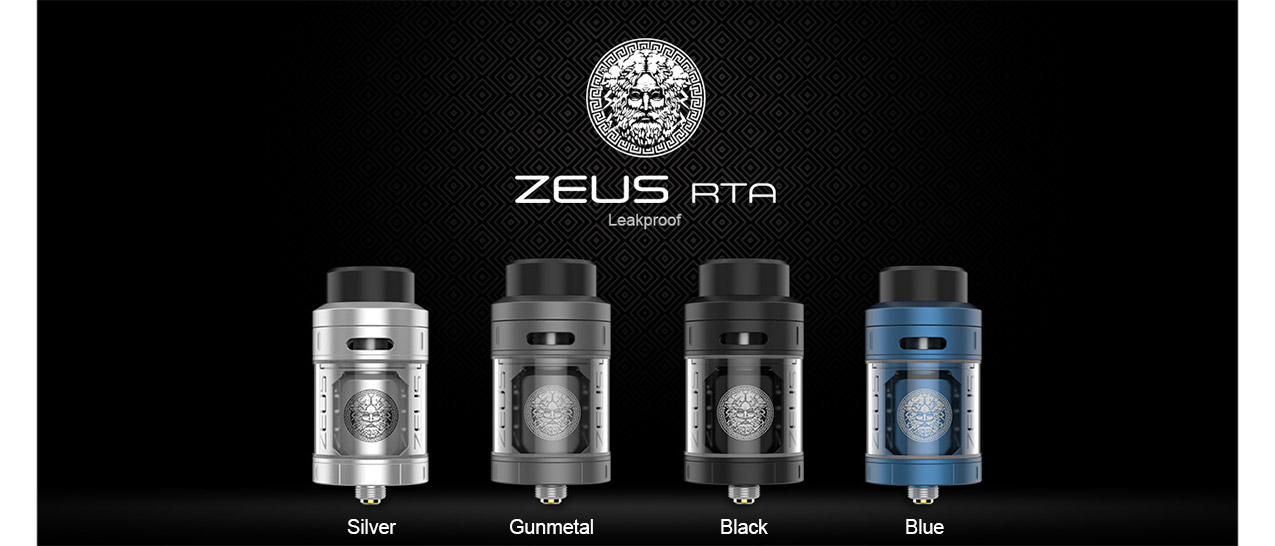 Case Material: Apparently SS
Type of atomizer: single- helical RTA
Capacity: 4ml
Diameter: 25mm
Dimensions: 38 mm without drape
Weight: no data
Color: black, steel, blue, gray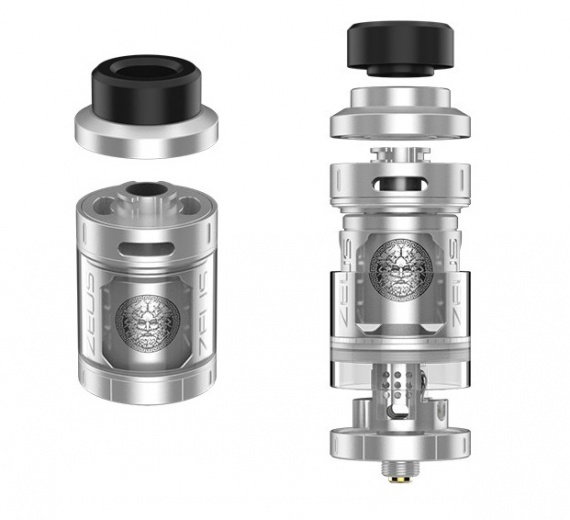 Packaging
: Zeus RTA
– traditional Geekvape key
– user's manual
– spare glass (darkened)
– fused Clapton 2pcs.
– spare parts in the package (apparently screws and orings)
– 510 delrin dripper
– adapter for 510 driptip
– 810 driptip.
Justin worked on the design, and I must say that the tank turned out pretty, thorough, downed-looks decent.
All the complete drippers are made of dolrin and the fact that the manufacturers are included in the standard set of different sizes, only pleases.
The top cap is fixed in half a turn, without thread in the usual sense, which significantly speeds up the refueling. A silicone gasket is installed in the lower part to prevent leakage. Rolls on the top cap is not provided, although with such a fix it may not be needed at all. The holes for refueling are not the largest, but quite sufficient.
The evaporation chamber is of medium size, due to the vertical air ducts on each side. Apparently, it will be sharpened for a worthy taste, so it will have appropriate processing of the dome.
The base is bezostochnaya, single-spiral, coils installed directly into it and fixed with slotted screws. Slots for cotton wool "open", be careful when winding the dome. Here is a reminder to the developers. The holes should be placed opposite, "mirror", so that the cotton wool lay "more convenient" and did not touch the spiral leg. Although it does not affect anything.