As always, we introduce you to the most interesting and most "yummy" of the world of iron for vapers. Sometimes there are failed projects, at times novelties become an integral part of the history of wapping, new names appear, old ones disappear, wapping develops and every day attracts more and more fans.
Company Vaporessonot a new player in the market, they have enough interesting devices that can boast of their fame, performance, appearance, many positive moments in different devices from this company, which are singled out by vapers of different countries.
The company does not need special representation. If you are at least somehow familiar with the activities of this company, you probably already heard about their box-mod called Revenger , then there was the same starter kit Revenger Kit.
well, literally the other day there was information about a new product from this same series. Meet Revenger X , a starter kit that will be interesting not only for the beginner, but also the advanced viper will also pay attention to him.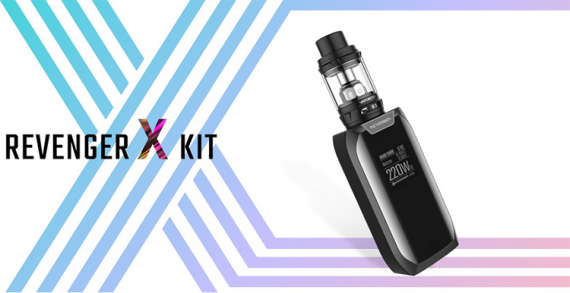 A starter kit is supplied in a bright colorful package with a stylish design, on the cover you will find an image of the setup itself, and inscriptions of the name of the model and manufacturer, on the back of the package all the technical characteristics of the device are indicated. The kit includes: box-mode Revenger X , atomizer NRG Tank , spare glass for atomizer, cable for recharging / flashing the device and, of course, the instruction in which there is all the necessary information on the operation of the device.
In fact, the new starter kit is the evolution of the previous set, the novelty resembles the older brother Revenger 220W Kit, but has a more perfect appearance and is equipped with sensitive touch buttons. What is the worth of the display itself (0.96-inches) on one of the side panels. Progress does not stand still and therefore manufacturers must adapt to its development offering something new, something interesting and fashionable. To date, it is known that the starter will be available in several colors, so far it is known about the five color solutions that are presented below in the photo. Control buttons (more precisely the start button) remained at its usual place on the side face, the control buttons (menu navigation, increase / decrease of parameters) disappeared from the part where the display is located, they were replaced by a sensor. The company used innovative IML technology.