Vaporesso Revenger X Kit
Vaporesso Revenger X Kit Intro
Vaporesso only recently entered the high-powered, sub-ohm vaping category.
But they are not letting this slow them down…
Exceptional reviews of the Revenger Kit converted many power-hungry vapers to the brand earlier this year.
In an effort to beat their best, Vaporesso presents the Revenger X Kit.
Retail Price: TBC
Colors: Green, Red, Rainbow, Black, Blue
Specs:
MAX Output Wattage: 220
Wattage Range: 5 – 220 Watts
Voltage Range: 0 – 8.5 V
Resistance Range: 0.05 – 5Ω
16 Tier brightness adjustment setting
8 Tier vibration adjustment
Haptic pattern: mobile specific vibration motor
Battery: Dual 18650
OMNI Board 2.2
Vape Juice Capacity: 2 mL/ 5 mL
Powered by GT Cores Replacement Atomizer Heads
Material: Stainless Steel
Diameter: 26.5 mm
510 Threaded
Adjustable Airflow Ring
Kit Contents:
1 X Vaporesso Revenger Mod
1 X Vaporesso NRG8 0.15Ω GT Core coil
1 X User Manual
1 X Vaporesso NRG Tank
1 X Vaporesso USB Cable
1 X GT4 Core coil (Pre-installed)
The newest member of the Revenger family is an identical replica of its predecessor.
Adopting equal dimensions and paired with the matching NRG Tank as used in the first kit,
it is impossible to evaluate their differences on looks alone. Or is it?
Upon closer inspection, it is evident that Vaporesso has switched out the large firing and adjustment buttons
for responsive, "touch" buttons located below the main menu display.
This high-tech adaptation is in keeping with modern trends and in this regard
Vaporesso is one of the early adopters of this feature.
In support of this feature, the inclusion of an 8-tier vibration system means that users have the option of
customizing the device to vibrate at different levels; essentially mimicking the effect of typing on a mobile device.
In addition, a simplified menu system with easy "one touch" navigation makes this mod suitable for users of all
skill levels.
The NRG Tank atomizer makes a return appearance for this release.
Available in either a 2 mL or 5 mL version, this cloud chasing tank utilizes the GT Core coil family.
The kit includes two varieties to get you started.
A pre-installed GT4 and a NRG8 GT Core coil, both 0.15 Ω.
If you missed the original "Revenger" craze, then the good news is that you're just in time for its resurrection.
And with a little luck, Vaporesso may just win over a few more supporters with its upcoming release.
What has been your experience with Vaporesso products so far?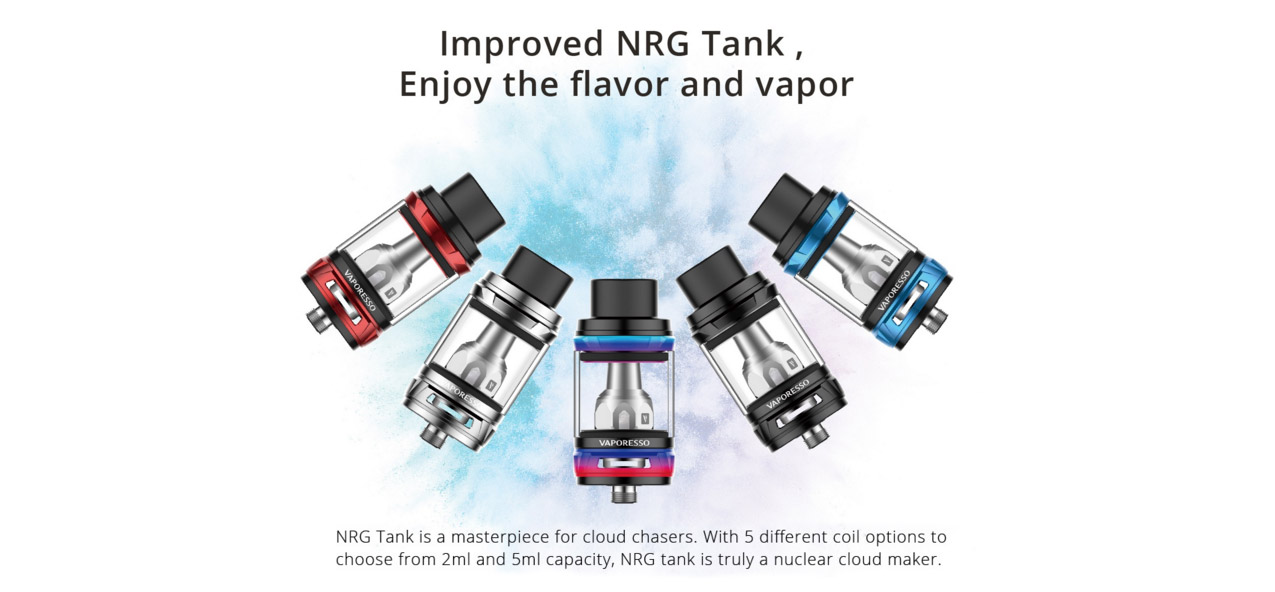 Supplier Daily News-Inookin, Joyetech, Eleaf, Wismec & Kanger